26.06.2019
Workplace Trends: Open Plan vs Private Office Fitout
Open Plan vs Private Office Fitout               
Open plan offices were once the office design of choice. They promote communication, collaboration, transparency and flexibility. However, recent research has questioned some of the assumed benefits. Harvard Business School has produced some interesting findings about the impacts of open plan offices;
Less face-to-face communication – employees often (over) rely on emails and instant messaging due to the reluctance to have difficult conversations in front of colleagues.
Sensory overload – from constant noise.
Increased absenteeism
Less productivity
However, the private office while offering increased privacy, less noise and distractions; can impact collaboration and social interactions.
The Agile Solution
The agile office fitout is the middle ground. Agile working empowers employees to work where, when and how they choose, with flexibility and few constraints.
Agile working is based on the concept of activity-based working. Employees have the freedom to choose the type of space they want to work in, based on the task at hand. Different tasks require different spaces and facilities. The benefits and features of co-working spaces are being embraced by many types of organisations. The key is to help, rather than inhibit employees.
The benefits to be gained are not insignificant;
Productivity, efficiency & innovation
Extended business hours
Ability to match workforce to changing demands
Better utilisation of skills
Business continuity
Attract and retain quality talent
Reduced absenteeism, staff turnover and related costs
Motivation and engagement of staff
An agile workplace is achieved by changing work practices, utilising technology and creating new working environments.
These new environments feature elements such as:
Town Hall area
Formal and informal meeting spaces
Breakout / Collaboration spaces
Social areas
Shared spaces
Touchdown areas
Training rooms
Variety of workstations
Technologically optimised
Quiet zones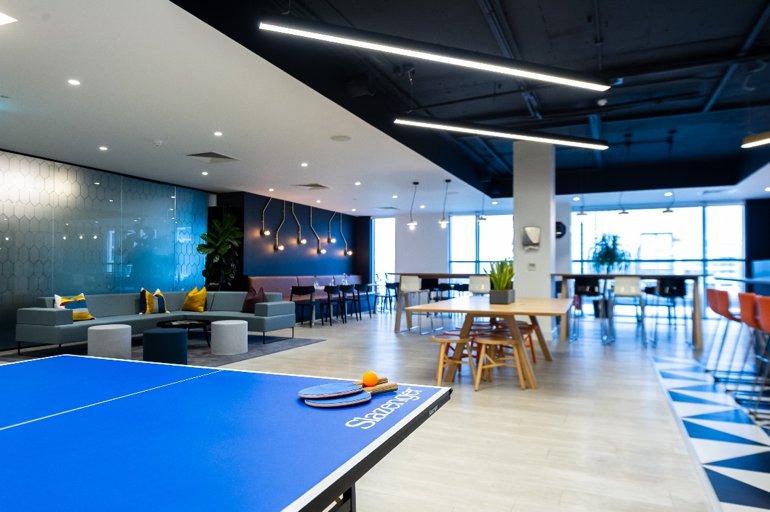 Let's look at some of these features in more detail to understand the benefits they can bring to a workspace.
Space to Create. Space to Work.
Breakout spaces are multi-purpose areas that provide an opportunity to get away from the desk and are a space for formal meetings or informal and impromptu catch ups. They have been shown to increase productivity, boost creativity and improve wellness. Because it's important for offices to be flexible, meeting spaces no longer need to be encased in glass doors. Employees like to move away from the desk and converge in communal areas for brainstorming sessions.
Space to Connect.
Offices are now reaching beyond the breakout space to offer employees somewhere to really power down. Social areas are an important consideration in any office design. Providing a social space gives employees an opportunity to build relationships with colleagues, ease stress and time to take their mind off work. This change of scene is vital to recharging the brain and improving concentration.
The Touchdown Area
Touchdown areas provide a space for people who need to work for short periods of time, undistracted and without distracting others. The touchdown area is ideal for anyone who isn't office based or for visitors who need to quickly catch up with their emails before going into a meeting. These areas act as an overflow area at peak periods when all employees are on site.
The Workstation
Furniture needs to be moveable or rearranged easily in an agile environment. This is very appealing for employees as they don't have to be confined to traditional workstations.
Key factors to consider;
The desktop set up of workstations is important because it helps avoid slouching and bad posture. Correct placement of the monitor, mouse and keyboard will overcome this.
Long periods of sitting are a challenge and the standing desk is a great alternative.
Adjustability is key in terms of chairs, lights, sit-to-stand desk and keyboard trays.
Technology
Technology has changed how we interact, think and work. As a result, technological innovations allow us to keep in touch regardless of location, accessing emails, documents etc. Workers are now more mobile and productive than ever.
By embracing technology in your office fitout, employees can work smarter and faster. Incorporate elements such as video conferencing capabilities and wireless charging ports, for instance. The key is to use technology to help employees address potential issues related to collaboration and communication.
Quiet Zones
A quiet zone allows employees to take time out to work without distraction. Distractions and interruptions can affect the actual quality of work. These spaces are needed to provide the quiet and privacy required to get confidential or focus work done.
Open Plan vs Private Office Fitout? Open spaces are still essential
These open plan spaces are still essential in your office design.
They are space efficient for one.
Access to natural light brings health & wellbeing benefits. As a result, productivity, eye fatigue, headaches and wakefulness are improved.
Studies have found that workers in open plan offices are more active.
Employees can quickly exchange information.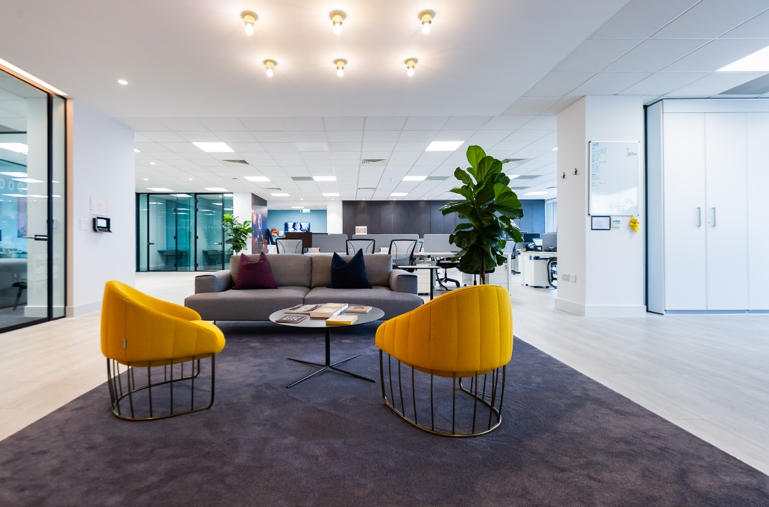 In summary, it's not a question of open or closed. The agile workplace offers the benefits of both; and with good reason is a trend that is here to stay.
At IIS Space we are experienced in working with clients to deliver agile working environments.
Contact us today to discuss your office fitout requirements.
Take a look at some of our projects.